Bagpipers for hire- Ireland Wedding Pipers, Funeral Pipers available throughout Ireland
We provide Wedding Pipers for your very special day. You can book a Bagpiper to play as you arrive at the church, during your reception or when taking photos after your weeding service.
Booking a piper is also perfect way for your guests to enjoy Drinks Receptions, Canapes, Cocktail lounge Events, also ideal for Dining.
BAGPIPER FOR WEDDINGS & FUNERALS
Irish Wedding Piper for hire
Professional Wedding Piper for hire.
This wedding and funeral piper has many years experience performing throughout Ireland.
Welcome to this well-established Irish Piper for Hire.
The haunting still hair raising sounds of the chanter and drone sounds, come together to give the beautiful sound to what is known today as the bagpipes.
For many years it has been a Scottish tradition to be part of a Bride & Grooms Wedding day but in more recently it has become a customary part of Weddings all over the world. Up to this present date he has performed for wedding couples in Ireland who have travelled from places as far as The USA, Canada, Australia and New Zealand.
Originally From Achill Island, Co Mayo and believed to many as the home of Pipes & Drums he spent much of his youth and endless hours trying to master the art of learning the bagpipes. Over the last 30 years he has played with a well known Pipe Band where the band have played nationally & internationally during its 70 year history. In recent years I have been a member of the Achill Pipe Band, a competing band that tasted success with All-Ireland, British and European victories as well as a history achieving 3rd place finish at the World Pipe Band Championships in Scotland. Two of his proudest moments until now has to be when they played in theirr national stadium for the national football team against both Austria and Denmark for World cup Qualifiers.
As a solo bagpiper he has been performing nationwide for weddings and family gatherings and have felt honoured to been that something special for a special day.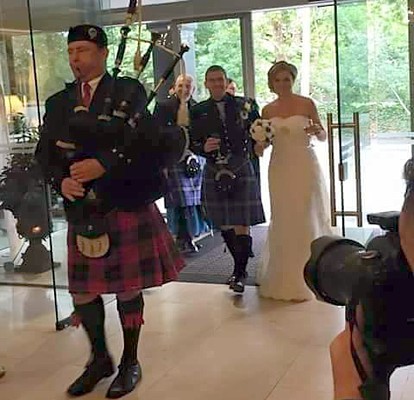 • Weddings
• Corporate Functions
• Events
• Concerts
• Birthday parties and Wedding Anniversary's
• & Much More!
His experience and professionalism will ensure that your special wedding day will be both memorable and hassle free!
Price From € POA
Areas Covered
Ireland – UK