Harpists for hire
What is a Harpist?
A harpist is a musician who plays the harp. Live harp music is suitable for all kinds of functions including performing elegant, soothing background music for weddings, or centre stage for a recital.
The two types of harp are the large concert harp (of the type played in orchestras), and the smaller Celtic harp. The concert harp offers the most versatility in terms of repertoire, and has a larger, fuller sound. The Celtic harp is especially designed for folk music (particularly Irish and Scottish), though much classical repertoire and other music suited to weddings can also be performed on it, also this type of harp can be ideal in smaller, more intimate venues.
The majority of harpists offer the large concert harp, though some also offer the Celtic harp as an option. The Celtic harp enjoys its most widespread use in Scotland and Ireland.
Booking a Harpist is a perfect way for your guests to enjoy Drinks Receptions, Canapes, Cocktail lounge Events, also ideal for Dining.
CONCERT HARP FOR WEDDINGS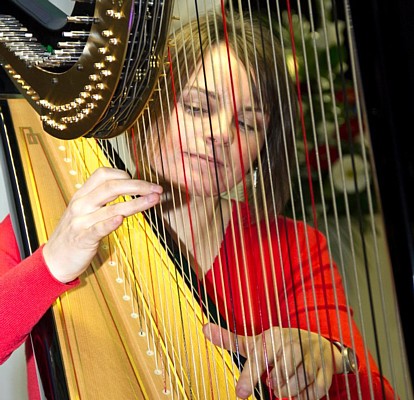 Professional Wedding Harpist for hire.
Wedding Harpist for hire – This wedding harpist has over 20 years experience performing throughout Ireland, Wales and the UK. Being brought up in West Wales, she's a fluent Welsh speaker, and has been immersed in the harp and its beauty since a really young age.
She performs mainly in and around Co. Cork but can also travel across Ireland!
Having followed her musical examination career with the Associated Board of the Royal School of Music (ABRSM), she now can perform at the following:
• Weddings
• Corporate Functions
• Events
• Concerts
• Birthday parties and Wedding Anniversary's
• Cruise Ships
• & Much More!
Her experience and professionalism will ensure that your special day will be both memorable and hassle free!
Music Samples
Coldplay – Clocks


Canon in D short

REPERTOIRE – Popular songs for Church Weddings include:
Classical Music
Time to Say Goodbye (Con te Partiro)
Canon in D
Prelude in C
Barcarolle Offenbach
Nella Fantasia
Claire de Lune
The Flower Duet – Lakme
O Mio Babbino Caro
Popular Songs
Have I Told You Lately That I Love You
The Rose
Fly me to the Moon
Wind Beneath My Wings
From this Moment On
Fields of Gold
You'll Never Walk Alone
Blowin' in the wind
A Groovy Kind of Love
Coldplay – Clocks & Viva La Vida
Emeli Sande – Beneath Your Beautiful
Can't Help Falling in Love
Somewhere Over the Rainbow
The Beatles
Ain't Misbehavin'
Snow Patrol – Chasing Cars
Adele – To Make you Feel My Love
Songs from Various Musicals
The Prayer
Damien Rice – The Blower's Daughter
Have Yourself a Merry Little Xmas
Elton John – Your Song
Elbow – One Day Like This
Annie's Song – John Denver
Angel – Sarah McLachlan
Jason Mraz – I'm Yours & I Won't Give Up
Christina Perry – A Thousand Years
Passanger – Let Her Go
John Legend – All of Me
Ed Sheeran – Thinking Out Loud
Religious Music
Amazing Grace
On Eagle's Wings
Christmas Songs
Cwm Rhondda
Calon Lan
Pie Jesu
Selection of Hymns
Ag Criost an Siol
A Mhuire Mhathair
Celtic Alleluia
Seinn Alleluia
Psalm 17 / The Hiding Place / Ma Ghra Thu
Ave Maria
Leonard Cohen – Hallelujah
Various Hymns
Entrance Music
Traditional Wedding March
Arrival of the Queen of Sheba
Celtic Wedding March / Llety'r Bugail
Mendelssohn Wedding March
Trumpet Voluntary
Canon in D
Traditional Celtic Airs
She moved through the Fair
Tabhair dom do lamh
Down by the Salley Gardens
The Rose of Tralee
Londonderry Air (Danny Boy)
The Fields of Athenry
Myfanwy
Ar Lan Y Mor
The Voyage
On Raglan Road / Dawning of the Day
Suo Gan
The Clouds Veil – Liam Lawton
Bi, a Iosa
O'Carolan – Various
Price From € 450.00 Depending on location
Areas Covered
Dublin – County Meath – Ireland
IRISH WEDDING HARPIST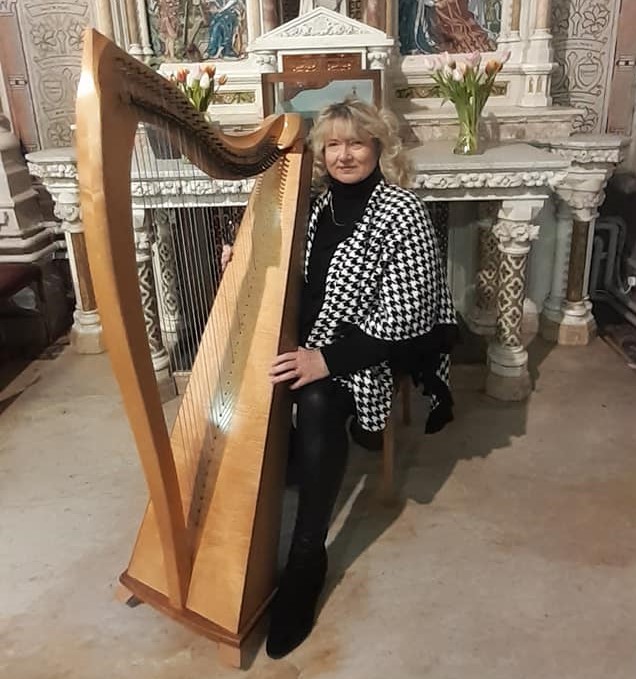 This harpist has been playing, singing and composing music for many years. She has played for Presidents, Prime Ministers and many other dignitaries both nationally and internationally.
Aras and Uactarain, Dublin Castle, Luttrellstown Castle and Saint James Palace are among the places where she has played.
The traditional airs and melodies which she plays are unobtrusive and can set the mood for any occasion.
From the time your guests arrive, let them experience it for themselves.
She is a classically trained Harpist, Pianist and Singer. She is an accomplished Traditional Harpist with titles including 'All-Ireland Harpist' to her name.
Price From € 500.00
Music Samples
Bridal Chorus

My Lagan Love

Princess Royal