Living Statues for hire. Street Entertainers including Living Statues, Fire Performers, Look-alikes, Children's Entertainers, Stilt Walkers, Strolling Musicians etc.
LIVING STATUES
Living Statues for hire, these are an amazing form of entertainment at any function. As guests pass by they suddenly "come to life" with hilarious results and are available for hire
Always surprising, and the centre of attraction we have many styles to suit any theme or type of event, great fun at Wedding Receptions, Award Ceremonies, Halloween Events, Mix 'n' Mingle, Walk-abouts, Street Entertainment, Photo Shoots, Private parties, Product Launches Corporate Events and more…
Price From € POA Depending on location
FIRE PERFORMERS
These Fire Breather Performers also known as Fire Dancers and Fire Jugglers are available for hire and are great for indoors or out, Whatever your requirements these Fire Performers will add that "BIG WOW" factor to any occasion.
These artists also can offer sets as freestyle dancers or Podium Dancing, Bar Shoes, or even book them as Promotion Girls or Guys.
They combine danger and glamour creating a super hot addition to your event. They offer a variety of shows from snake dancing to jaw-dropping fire shows as well as pole and podium dancing.
Their wardrobe something of a spectacle itself with exotic stunning costumes.
They can tailor their act to any event from Arabian themed parties, Weddings and Barmitzvah's to Corporate Events and Club Night promotions.
When it comes to their set/s duration, they work very hard and either 3 x 10 minute sets or a massive "full on" 25 minute set.
They are happy to be flexible and make your night work for you.
Their fire breathers can work indoors or outside although the snake dancer doesn't like outdoors in the winter as it has to be kept warm.
Click Here For More Info On Fire Performers
STILT WALKERS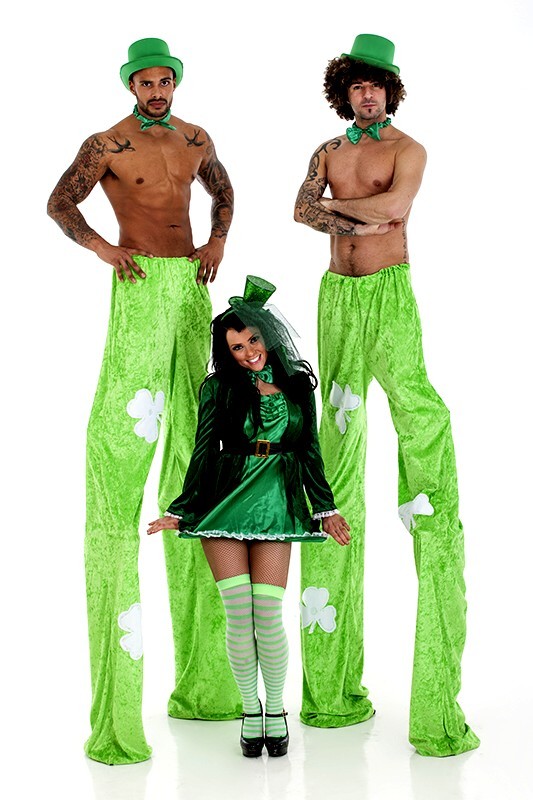 Stilt Walkers for hire in a theme of your choice, book our Stiltwalker including Mermaids, Moulin Rouge, Ice, Cupid, Clowns, Cowboys and Cowgirls, Burlesque, Hawaiian, Showgirls, Paddy Girls, Pimps, Christmas.
Stilt Walkers are perfect for adding that little touch of the surreal to your event. One of our most versatile acts, they can be used at almost any occasion, whether it be to act as a waiter at your wedding reception, as part of your marketing campaigns to hand out leaflets in a crowded market place, or just to walk around your event in character and costume.
We have an extensive range of stilt walking characters and if we don't have what you're looking for then we are more than happy to build it just for you!
Our stilt walkers can be combined with other performance options in our Pick & Mix performance packages often at no extra cost to offer you even more performance for you money!
Click Here For More Info On Stilt Walkers
Gallery